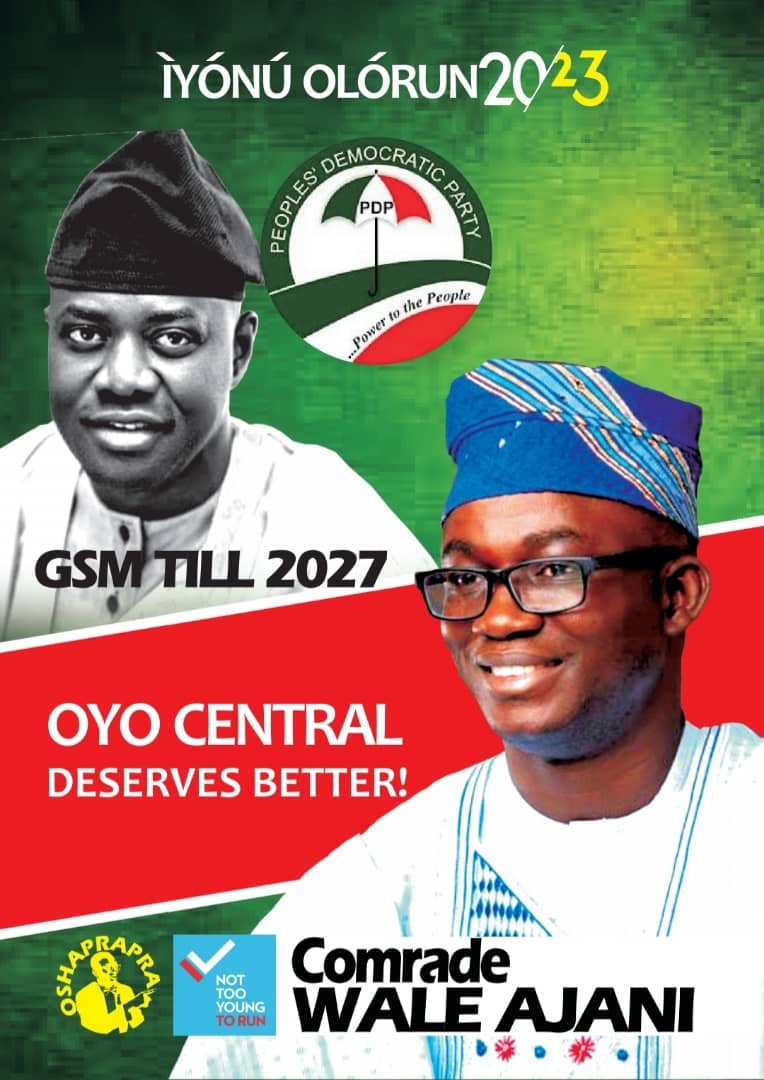 October 1, 2021 was a day of celebrating Nigeria's 61st independence anniversary all over the nation, but loud wailing combined with silent weeping enveloped the atmosphere at Abonde Villa on Akanran Road, Ibadan, Oyo State, as Kazeem Sunmonu Abonde, a Chief Superintendent of Police, attacked and murdered in cold blood by miscreants in Lagos State, was committed to Mother Earth.
As early as 7am, people had been coming in trickles to pay their last respect to the slain officer. Of course, family members had been on ground when the man's death was made known to them on the day of the occurrence.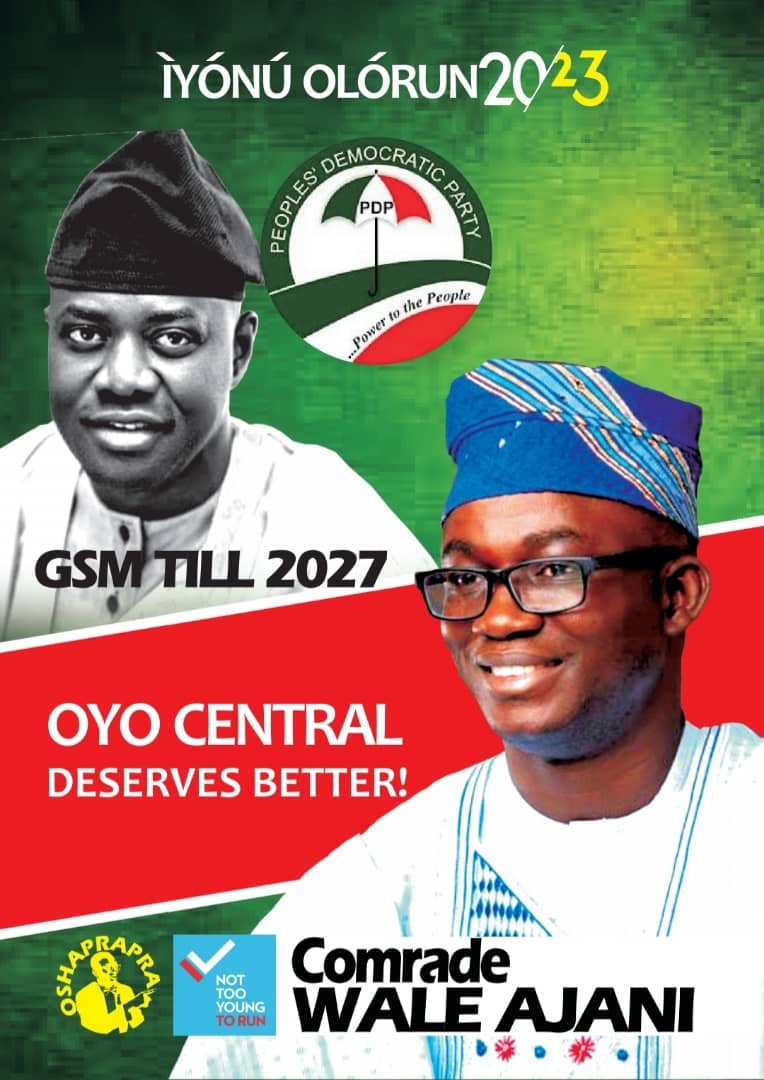 Before his remains were brought to Ibadan, his ancestral home, the Lagos State Police Command, which was saddened by the killing of its gallant officer, had prepared for his final rest, both in Lagos and Ibadan. And on Friday, a brief farewell ceremony kicked off with lying-in-state of the body early in the morning at the police command headquarters in Ikeja.
The state Commissioner of Police, Hakeem Odumosu, who paid his last respect in honour of the slain officer, also encouraged the representatives of Abonde's family members with words of comfort.
After this was the drive to Ibadan in a convoy, led by the Deputy Commissioner of Police in charge of operations department, Ahmed Magaji Kotangora, who represented the police commissioner.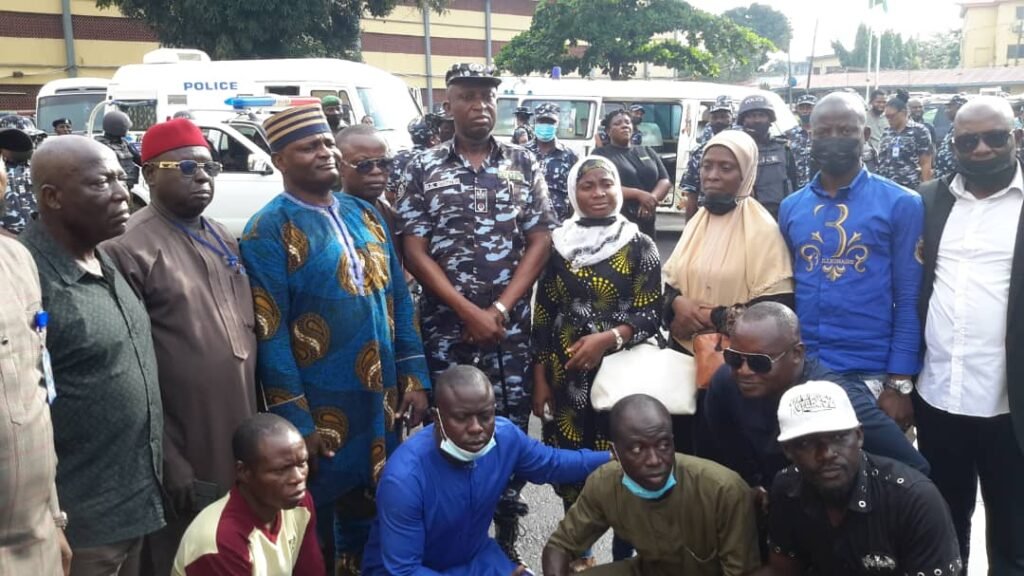 As the motorcade got to the turning to Abonde's Villa, siren was heard from a distance, wailing, while people, who had gathered in groups and discussing in hushed tones, merged, and tears began to flow, as the reality of the moment began to dawn on them.
And as the vehicle bearing the casket containing the remains of the officer parked, family and friends milled round it, trying to catch a glimpse. One of his male relatives could not stand it as he jumped several times, held his head and started wailing: "Please wake up!" The weeping quickly spread.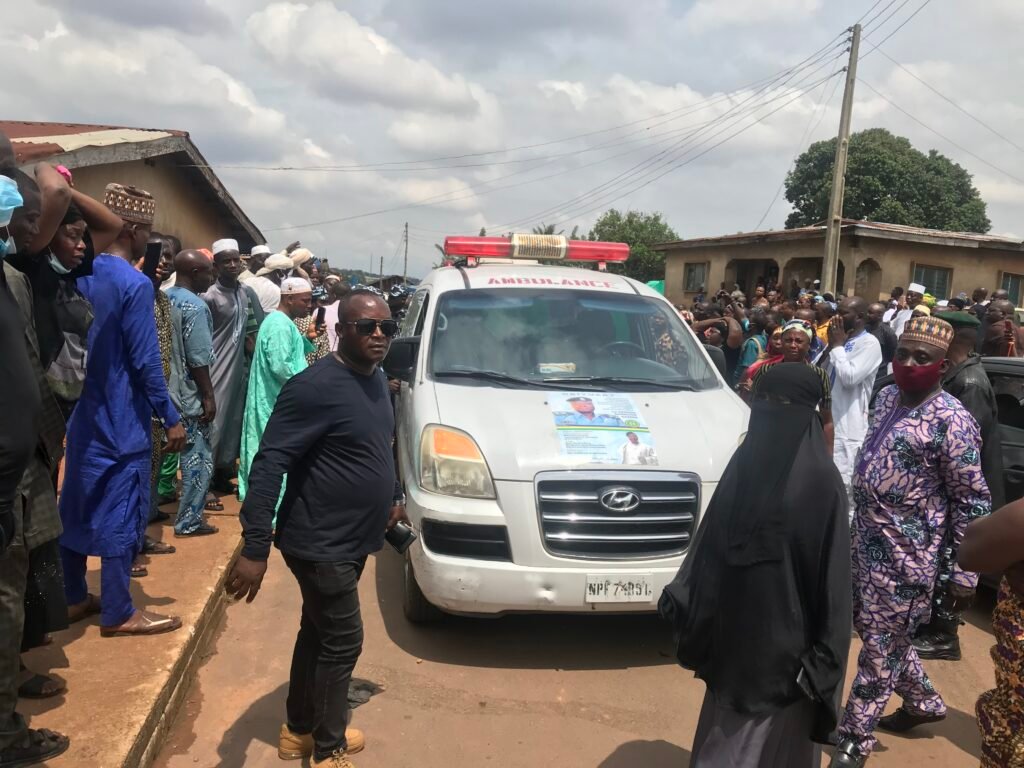 From there, the casket was put on a wheeler by senior officers who acted as pall bearers. Thereafter, policemen in parade uniform mounted a guard of honour for him. Unlike the way a bugle sounds strong and loud in a normal parade, the instrument was blown softly and sorrowfully by the bugler, while others hung their heads to depict sorrow being felt at the demise of the officer. And unlike heavy thuds heard during march past when officers are at attention, the marching and standing at attention by the policemen were almost with no sound; very soft.
After the parade, the shoes and cap of CSP Abonde which were put on his casket during the parade were handed over to family. The Deputy Commissioner of Police had also gone to the late officer's wife, children and relatives to offer condolences. At a point, he couldn't control himself as he was speaking, as he broke down in tears. He also prayed for the family.
Then came Islamic clerics and teachers as the body of the officer was brought out of the casket and laid on the ground. There, citation of Qura'nic verses and fidau prayers started. At the end, the body was conveyed to the graveside for burial. But before its interment, 21 gun salutes were fired into the air to signal the final end of his active service in the Nigeria Police Force and to his fatherland.
As the body was being lowered into the grave, Thenewsbearer sighted Abonde's male children by the graveside looking so forlorn. His daughters, with a respectable distance between them and the graveside, looked blankly, staring into an empty space. His wife, Mrs Idayat Sunmonu-Abonde, sat not too far away, with trembling, closed lips, while her eyes were half open.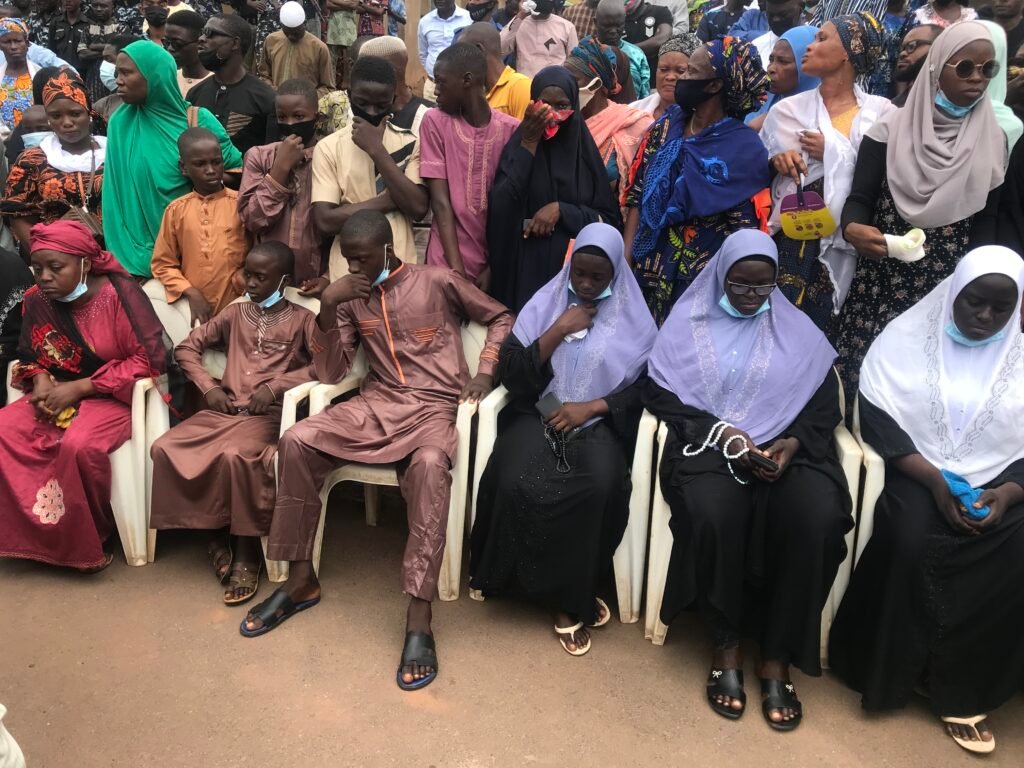 Attempts to get her to speak were unsuccessful. She couldn't utter a word. One of her daughters, Ramat, also deep in sorrow, helped the widow on what she could say the type of man Abonde was. She briefly said: "He was a great man, but they have taken him from us. He was caring to everybody."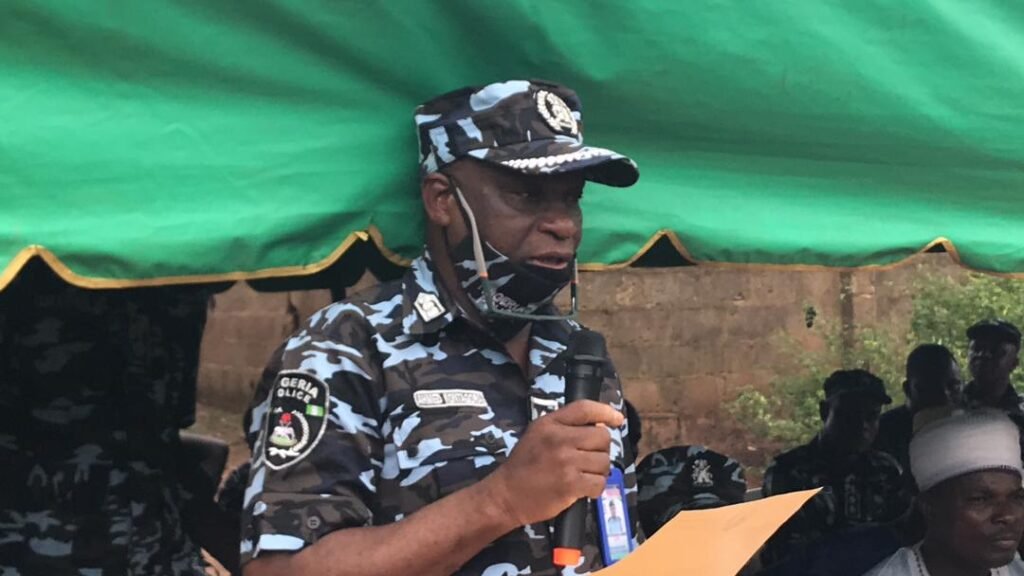 The firstborn and first son of the family, Mr Lukmon Abiodun Sunmonu-Abonde, whom Kazeem came after as the second born, also spoke with Thenewsbearer.
He gave a history of the police officer struggled through life to possess higher degree certificates, after joining the police with secondary school certificate, doing night duties and going to school in the morning. He told of how brother obtained his Master's and law degrees after his OND and HND qualifications.
The brother also spoke of how the CSP so much cared about family members, close or distant, and friends, and would come to their aid promptly whenever needed.
His sister, Mrs Ganiyat Yetunde Odetayo née, Sunmonu Abonde, in her comments, said that it was unfortunate that her brother, with Ajao as his panygeric name (oriki), was killed at Ajao Estate.
She said: "Everybody that we didn't know have been talking of how he had been of help. We have accepted it with faith but he died a painful death, and we know that the doers will not go unpunished by God."
One of leaders in Abonde family, who was always coordinating family affairs with the late CSP, Dr Oladeji Dauda Abonde, said that he received the news through 36 calls he missed and later saw, and messages from a family member in Abuja, showing the picture of his slain kin and speaking about the incident.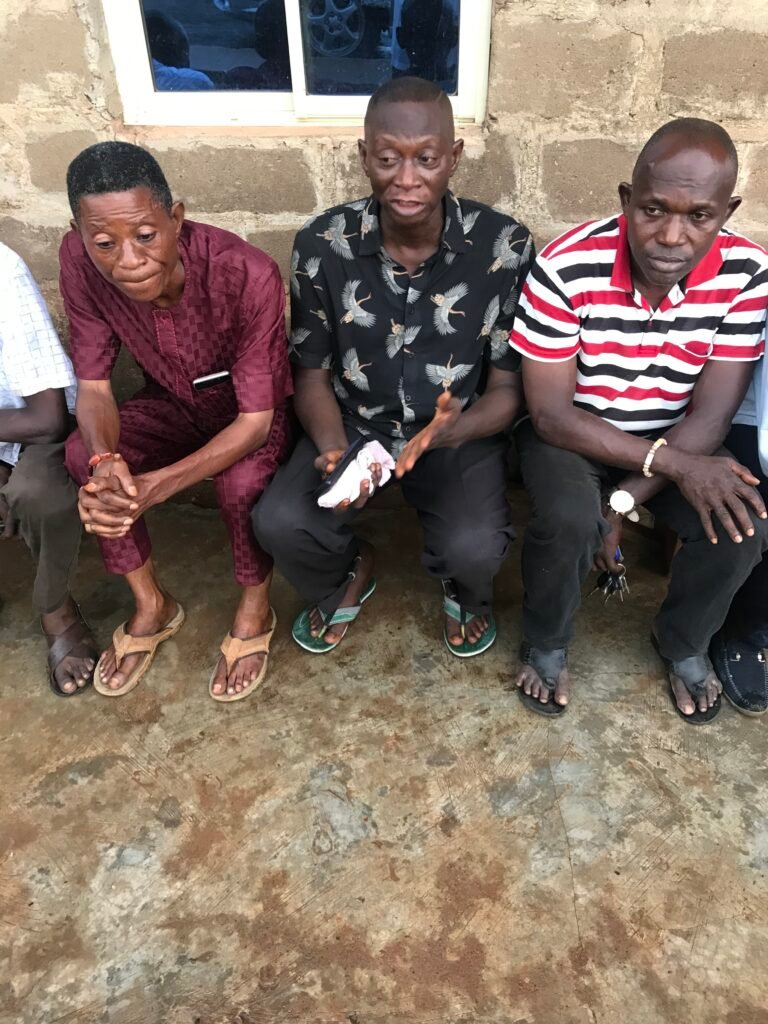 He said that Abonde was looking forward to starting his law chamber, while he (Dr Oladeji) had also linked him with a senior lawyer that could assist in his professional startup, unknown to them that his life would be truncated.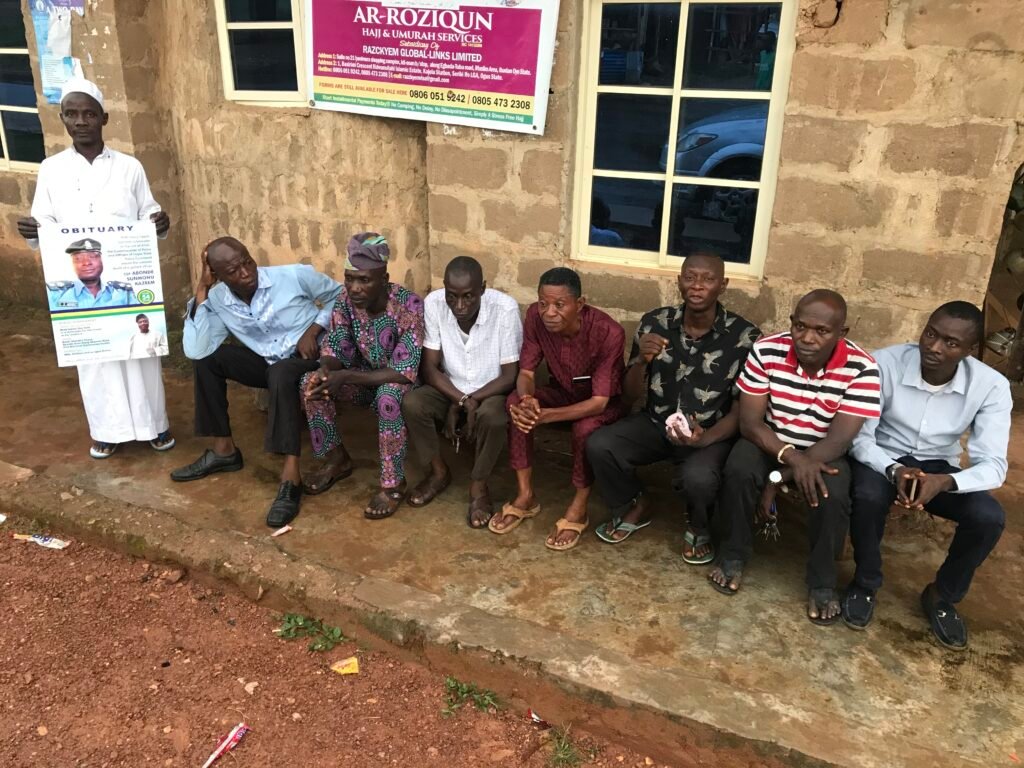 Another family member, Mr AbdulKabir Olawale Onikede, described it as strange and unbelievable that his cousin could be killed cheaply by miscreants when he led 50 officers to the operation that turned violent, but said everything had been left in God's care.
"He was the type that would not want anything to happen to those under him during operations. He had been to more delicate and sensitive operations and was always working in volatile areas before the last incident. It was like that when he was in Kogi State, but God helped him that even the indigenes, believed to be strong in charms, later loved him when they saw that he was a humble officer. They didn't want him to go when he was posted out of the command," the cousin said.
He added: "I believe God said it was time. That was why they succeeded in killing him. We don't know what we have lost now until he is needed for one thing or the other."
In his comment, the Deputy Commissioner of Police in charge of Operations in Lagos State Command, Ahmed Magaji Kotangora, spoke about his times with the late officer.
According to Kotangora, "the gathering and presence of police officers from the command has said it all. Abonde was a diligent and disciplined officer. He was very dedicated. He was always in the frontline in the fight against crime and criminality in the police command.
We actually miss him pray for the repose of his soul."
The DCP promised that all the entitlements for late Abonde would be paid to the family without waste of time.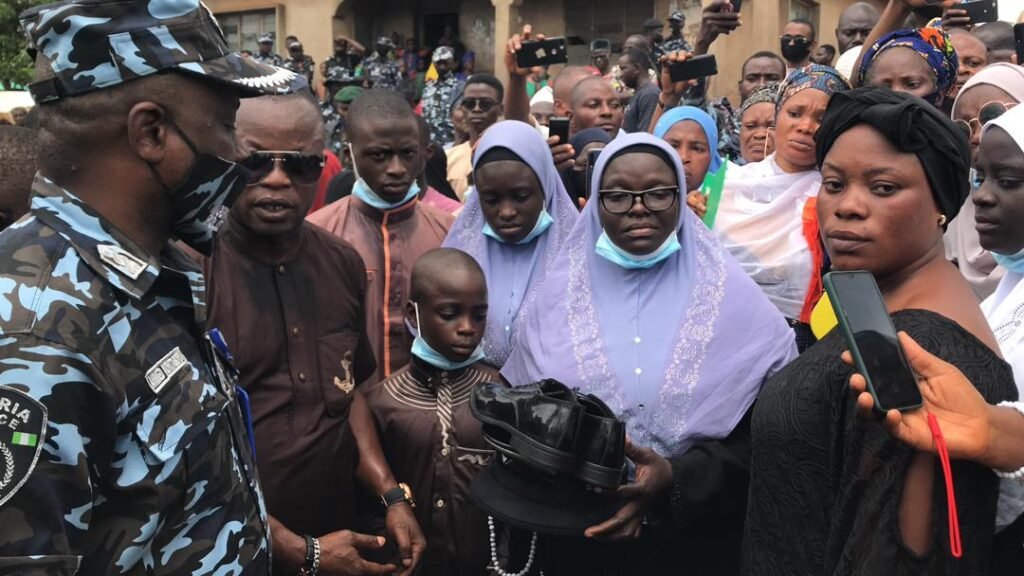 "The Police Force is actually mourning this unfortunate incident. All his entitlement will be given without any delay," DCP Kotangora stated.
On what the police command would do to control the notoriety of Ajao Estate being occupied by motorcycle riders and some hoodlums, the DCP Ops said that the area was raided immediately after the incident and a number of miscreants arrested.
"We are trying to find out the perpetrators of this heinous act. What we will like to know is: who killed him? That is our concern, that is our mission. In due course, the investigation will be completed and the perpetrators will be charged to court," he said.
He assured that the place would be cleared of miscreants, just like any other place in Lagos Police command.
And so, the violin stopped playing, as all sympathizers left for their different abodes.