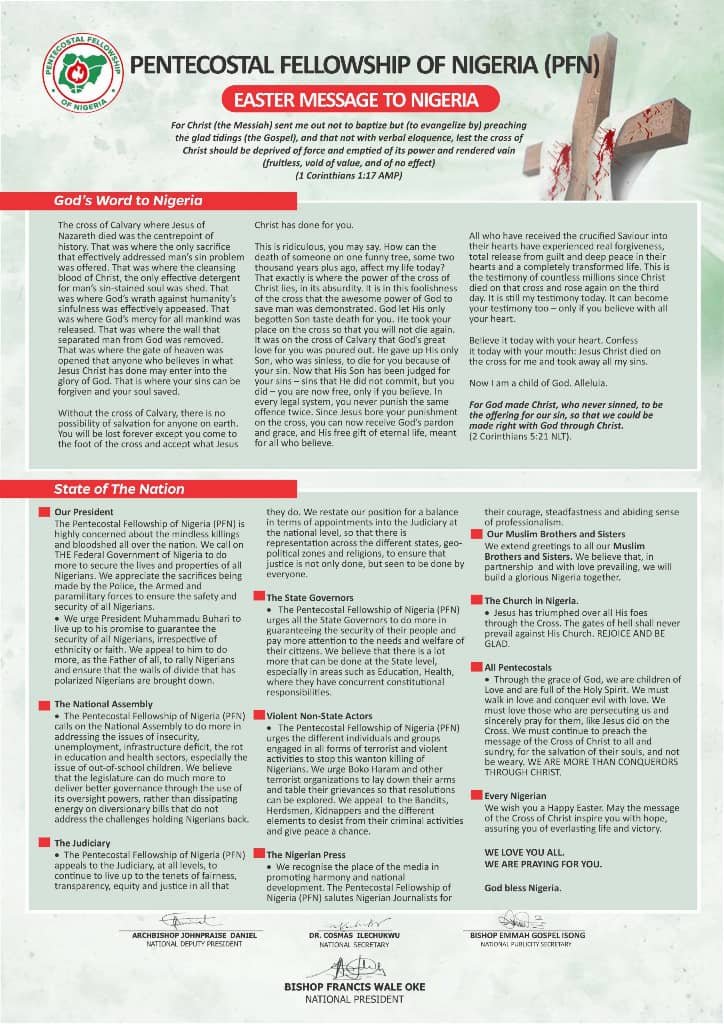 A 35-year-old man, Idowu Sorunke, arrested with two others over the killing of a man in Ogun State, has said he acted in preemption of the deceased's alleged intention of terminating his life.
Policemen from Ogun State Police Command had arrested Sorunke and the two other suspects, identified as Daniel Ikwe, and Micheal Tedungbe in connection with the death of Rasaq Shotunde, said to have been murdered in cold blood on Christmas Day, Friday, December 25, 2020.
The murder took place at Solomo Village in Obafemi Owode Local Government Area of the state.
Sorunke had told Thenewsbearer that Shotunde had openly declared that either of the two would have to die in order to put an end to the land dispute between them.
In a statement by the police image-maker in the state, DSP Abimbola Oyeyemi, it was said that suspects were arrested after a call received by policemen at Owode-Egba divisional headquarters, that Shotunde was found dead on the road leading to Baleye Village, with his head smashed with a heavy object suspected to be a club.
Oyeyemi stated that the call made the Divisional Police Officer, CSP Mathew Ediae to send detectives to the scene.
The PPRO added that after a thorough investigation, the detectives' efforts
yielded fruits when one of the suspects, Ikwe, was apprehended, with the help of people in the community.
"The arrest of the suspect led the police to his accomplice, Tedungbe, who was also apprehended.
"The two suspects informed the police that it was Shorunke who contracted them to eliminate the deceased. "Their confession led the police to Sorunke's house, where he was promptly arrested," Oyeyemi explained.
When interrogated, Ikwe and Tedungbe confessed that they killed the deceased on the order of Shorunke, who promised to pay them N500,000 if they could carry out the assignment successfully.
They confessed further that they laid an ambush for the deceased, on his way to the village from Abeokuta where he had gone to visit his son.
Speaking with Thenewsbearer in an interview, Sorunke narrated what brought about his determination to eliminate Shotunde.
He said: "I live at Iporo Sodeke in Abeokuta , but I'm from Baleye Village, near Solomo, at Obafemi Owode Local Government Area.
"What happened was that my father had a portion of land in our village that the deceased was contesting with me. He wanted to take it from me by force.
"When he started, I went report him to our traditional ruler. The ruler warned him not to plant things on the land again, and we were both fined. I paid mine, but he did not pay his.
"Not long after, I discovered that he came to plant plantain suckers overnight on the land. I uprooted the plantain suckers.
"When the man came on a bike and saw that I had uprooted the plantain suckers, he started raining curses on me. My first child, who was about to do his West African School Certificate Examination (WASCE) started pleading with him not to curse his father.
"My son woke up to urinate on the land. It was in June. That was how he became sick. I spent a lot of money taking care of him, but he died in August.
"After the death of my son, I walked across the portion of land in dispute, and from that spot, I developed chronic leg ulcer. I spent a lot of money on it too, and it has yet to heal completely.
"Recently, I did final burial ceremony for my father and mother, and we used the portion of land as a venue to entertain guests.
"But to my surprise, the deceased came and told me that either of us will lose his life over the land. "My family members and guests were witnesses to the utterance.
"Also, my three-year-old child defecated on the land, and was spiritually attacked in the stomach, which became so hard. We had to use traditional means to cut her stomach open to remove the charm planted in her diabolically.
"I believed Shotunde must have had something diabolical that he depended on, while I didn't have charms or possess diabolical means of getting even with him.
"That was why I told Ikwe and Tedungbe to kill him whenever they would see him on the land.
"I know that I've acted against the law, but I'm just pleading for mercy."
When asked why he did not seek redress in the court of law over the land dispute, Sorunke said he got into trouble because in his community in the village, it is not acceptable for indigenes to go to court over any misunderstanding.
"It is believed disputes or disagreements will be settled amicably by traditional leaders," Sorunke said.
The second suspect, Tedungbe, told Thenewsbearer of his involvement this: "When I asked Ikwe about how we could achieve killing Shotunde without a gun, he responded that we would use our hands.
"On the day we did the act, Ikwe brought a stick to me on the road. He said I should hide in the bush. "When he sighted the man, he followed him and he started using the club he held on him. I stayed with him until he succeeded in pummeling the man to death. Then he said we should escape from the scene."
Ikwe, a 23-year-old farmer living at Solomo Village, said "it was not my plan to kill. I was sent by Sorunke. He told me that the deceased was troubling him over land issue.
"We laid an ambush for the man in the bush, before I used a club to hit him until he died. It was when the deed was done that I got my right senses back and my eyes got opened to the wrong I committed.
"My friend, Tedungbe, was also involved because he was the one who came to call me while I was in the farm that he had sighted the man we targeted.
Both of us used clubs to hit him until he died.
Ikwe, Who expressed remorse at his action, further told Thenewsbearer: "I'm no longer thinking of being alive again because I've gone beyond the boundary stipulated by the law.
"I know that whoever kills will be killed, according to the law. I just need help now."
The PPRO said that the three suspects had been transferred to the homicide section of the State Criminal Investigation and Intelligence Department, on the order of the state Commissioner of Police, Edward A. Ajogun, for further investigation and prosecution.
He added that the corpse had been deposited at a General Hospital's mortuary for autopsy.